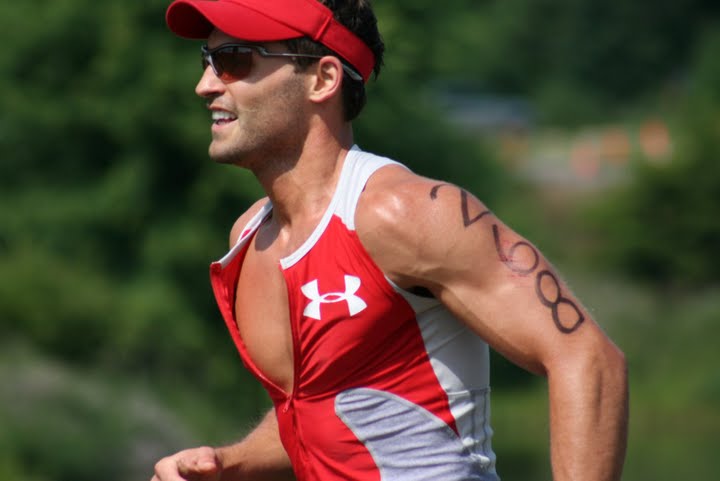 Awesome new weekly addition to our Perspektive page!  I've already spoken about the UNBELIEVABLE story of
Chris Across America Sams
 and his run across America to spread awareness about a fit and healthy lifestyle.  He has agreed to spend Sunday mornings with me in a Q&A session.  Each Sunday morning I'll ask Chris 3 questions about his journey and share his answers with you on Monday morning.  I'd love to hear from you guys on some questions you may have for Chris.  Follow him on his facebook page, follow him on his site
www.samsacrossamerica.com
and send him plenty of encouragement!
Enjoy…
1) You've been running for almost 2 months now.  As a whole, what has your experience taught you to this point?  If you don't mind, just touch on something that sticks out in your mind.
That's a big question, but as a whole…I'd like to consider myself a planner.  I write down my goals and like to tackle them each day and feel like I'm moving forward on each goal.  I always like to have a plan and do my best to stick to it.  But each day, there are a lot of unforeseen things that you may not think will happen but they do.  Whether it's a good thing or a bad thing, you learn from it.  It's a HUGE learning experience on a lot of different levels.  My experience on this run has really emphasized the importance of being able to adapt and move forward.  Always important to have a plan but be ready to adapt as things come up that you weren't able to account for.
2) Chris, you're running across America! I have trouble saying it, I can just imagine the challenge it has been actually doing it.  Has it been more of a challenge on you physically or mentally?
The first 2 weeks, it was a huge physical challenge because my body was trying to get used to something that it wasn't used to.  I was extremely sore.  Mentally speaking, the first 2 weeks it was pure excitement, so I had a great rhythm and a great flow. But physically, I woke up each morning limping for the first half hour.  My muscles were extremely sore.  My body wasn't used to what it was going through.  As my body began to adapt and became used to it physically was about the same time the mental adversity started to kick in.  The mentality part started to become much more wearing than the physical part.  When you're running a marathon+ each day, and its staring you in the face every single morning, six days a week, not knowing what the weather is going to be…is it going to be hot?  Is it going to be cold?  Is it going to be raining?  You ALWAYS have to mentally prep yourself EACH morning and you have to psych yourself up.  And then there's the thought of being conscious of what I'm taking in nutritionally. What I have for dinner is undoubtedly going to affect my run the next day as is what I have for breakfast.  If you eat too much it affects your run, if you eat too little you're not in good shape either.  Everything affects your flow.  So there has to be a level of focus on that.  And then of course, I want to maintain good contact with my followers and be conscious that I'm inspiring them each day.  So yea, for sure overall, it's definitely been a harder mental challenge.  You have to motivate yourself every morning.  There's no one there pushing you out to door so you have to go.  It's all your perspective and how you look at it and how you talk to yourself and your ability to maintain a certain mantra.
3) People have come to know you as a certain kind of individual.  You always have had this knack to inspire people.  You're a personal trainer by trade.  People know you as a positive guy and you had a great perspective prior to starting this journey.  Since you've started on your run, what has a challenge like this done for your perspective that you may have not had prior to you taking this on?
I'm traveling each day, going into uncharted territories.  I never really know my path until I'm actually going and into it. As I mentioned, each step you take you're learning along the way.  For me, this has been a tremendous awareness experience.  Meeting and encountering new people each day, helping them to train and inspiring them to reach their physical goals. But what's been really neat is, high school guys and college friends that I may have not spoken to in years are reaching out to me in private messages on facebook and are laying down huge notes telling me what I'm doing for them…and I really had no clue.  And just out of the woodworks, in their own way, people are reaching out and letting me know how they love my video posts and love reading the story of the journey.  It's really cool to hear from some old friends who are making changes in their lives, getting back in the swing of things, making positive choices on health aspects which will overall benefit their lives.  Once you're making good decisions of eating right and working out, you get on that natural high.  And then when you're on that you have a good positive direction on what you want to accomplish in life.  ANYONE can do very well at their craft…whatever it is.  I believe everyone has a talent and maybe your job in life is to find your talent and once you do, work on it every day.  So I guess the perspective that I've taken away most from this trip is the HUGE impact that we have on each other…whether I'm inspiring them with my journey or they're inspiring me by reaching out and dropping these huge notes.