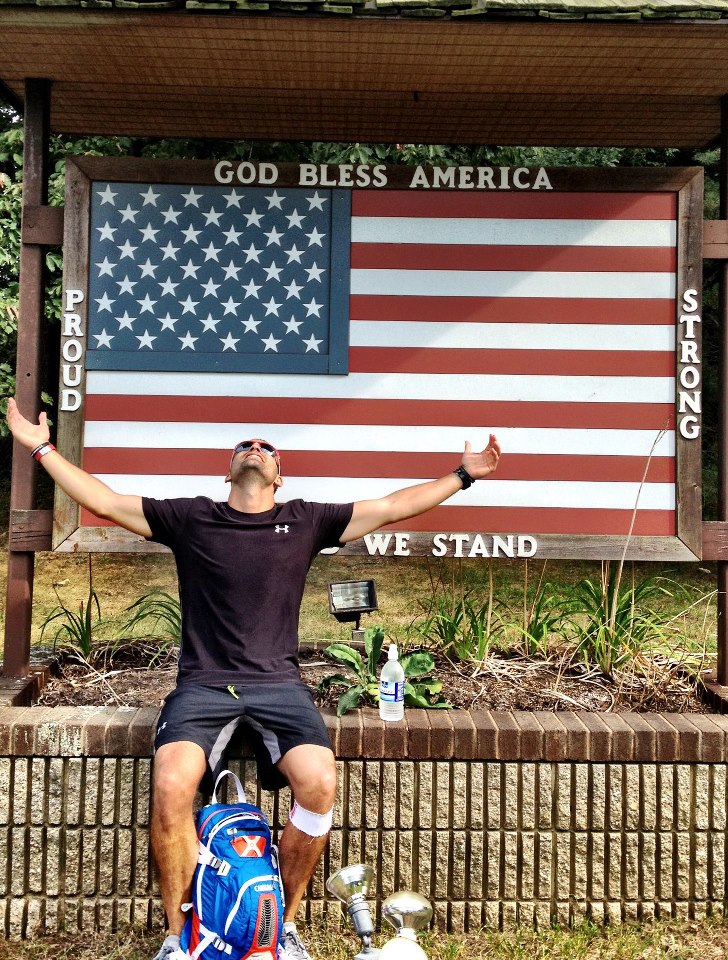 Awesome Q&A this morning with Chris Across America Sams! Each Sunday I have the opportunity to speak with Chris and ask him questions about his journey. As I've mentioned, Chris is running from Baltimore, MD to San Diego, CA to help spread awareness about living a fit and healthy lifestyle.
Q: We're getting to the end of the year, usually the time when people start planning for next year; setting their goals and agenda. I'm sure leading up to this journey you did a fair share of planning; planning on how you were going to handle the run physically, mentally and so forth. As you know, planning can only get you so far. There are always unforeseen occurrences that force you to adapt. What has come up that was unforeseen for you, and what have you done to overcome it?
As soon as I got further west, Alabama, Mississippi, Louisiana, and into Texas, I never actually looked into the towns along the way to see if they had a motel or hotel. I just figured if it were a town, they'd have a place for me to stay. As I got further from the east coast, places to stay grew more and more scarce. As I was planning my run for the day, let's say it was a 22-26 mile run, when I would look for a motel or hotel to stay in that town, there wasn't always a place to stay. So instead of going with the 22-26 mile run that I had planned, I would have to run past that town to another town that did have a place to stay. And the distance I had planned for quickly grew to a 35-40 mile run. After preparing for a certain distance run and then minutes later realizing you have to double that run, it's a mental challenge for sure. You establish your mindset for what you have to do for that day and then boom, everything changes.
Another thing unforeseen is relative to eating. With being so used to going and shopping every Sunday at WholeFoods, I basically got to pick out a beautiful menu for what I wanted to eat for that week. Vegetables, fruit, fish, almond milk, coconut milk and so on; well they don't have that at gas stations. I noticed I've more or less had to live a trucker's life. A lot of times I've been relying on a gas station for a place to get my food and as you know, they don't always have the healthiest of foods. I had to try and search around and find what was best for me to eat from a scarce selection. Sometimes it was something weird like pickles. My body is not really used to that kind of stuff but I didn't have much of a choice. That was a huge challenge for me to overcome. If you put junk in your body your body is going to perform like junk, I truly believe that. So getting the right kinds of food has certainly been a challenge. And especially down south; everything is fried… EVERYthing. I ask for a grilled chicken and they're like, "What? We don't have that." That was a huge adjustment for me. I mean I kind of knew that about the culture going in, but running from town to town and really experiencing the culture and the foods down south, you start to understand why some states are healthier than others.
Another thing for me was working out. The first 2 months doing this run, I was "saving my energy" for my runs so I wasn't working out. But I found out, come month 2 I was losing weight and saw my body was taking on more of the skinnier, runner's physique. I wanted to regain the build I had prior to the run so I started working out in the mornings. I started doing the tabata exercise almost every single morning. I'm pretty religious with that and I think it's important for me. I try to work out 5-6 days a week for sure. It really sets the tone for a day of success. I found that after working out in the morning it definitely encouraged me to make smarter decisions over the course of the morning in preparation for my run. After you work out early in the morning, you want to follow that up even more with a healthy breakfast so it's really amazing to see the ripple effect after you get your body up and moving in the morning.
Finally, and what I think is really important that was unforeseen for me before my run is the goodness of people. There are a lot nicer people in this world than is perceived. A lot of people watch the news each day and I'd say 9 out of 10 things are negative or are about what's wrong with people and what's wrong with the world. You're seeing all the murders and stabbings and what's wrong and negative in our society. Before my run everyone would tell me to "be careful" and "don't trust many people." Of course I was cautious going in but I really haven't run into any bad people. There have been so many amazing people out there that have gone out of their way to help me with my run and help me achieve my goal. It's been truly encouraging to see the willingness of people to help others and the goodness that exists in America.